– PDCPD – RIM – Technology. Dicyclopentadiene (DCPD) is used as initial component.
Polydicyclopentadiene (PDCPD) – it is a material that can replace metal, fiberglass and a number of polymers due to its unique properties. It has low density, high impact resistance, which is retained even at low temperatures (-60 ° C), as well as high resistance to aggressive media, benzo-oil resistance. There are practically no size and thickness limitations.
The material is easily processed, glued and painted.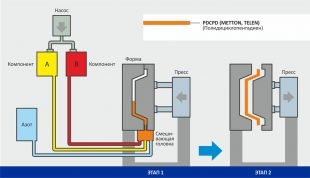 PDCPD process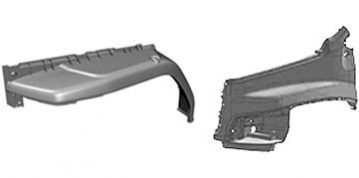 Variants of manufactured products
Application:
Fenders

,

, door trim

,

body elements

, technical component inside engine compartment;
Chemical and electrochemical industry:

containers

,

tanks

;
Agricultural machines, tractors and loaders:

bumpers

,

fenders

,

claddings

,

hoods

,

cabin elements

, etc.;
Trucks/cargo transport: bumpers, side panels, spoilers, claddings, deflectors, tanks, etc.;
Passenger transport (buses, minibuses):

bumpers

,

side panels

,

spoilers

,

wheel arc cladding

,

deflectors

,

linings

,

cladding panels

, etc.;
Other:

drainage elements

,

sewage caissons

,

, barrel partitions

,

road arcs

,

tanks

,

containers

.
Application:
Simple scheme of mixing components;
Decreased cost of tooling production due to the technology process: pressure inside the mold at filling is not more than 2 atm is maintained, the tooling material is aluminum, steel or composite;
Short reaction time – less than 60 seconds;
Not very high level of investments in press forms;
Project start up from 1 month.