– LFI (Long Fiber Injection) is Technology of part manufacturing from polyurethane composition and chopped fiberglass from assembled roving.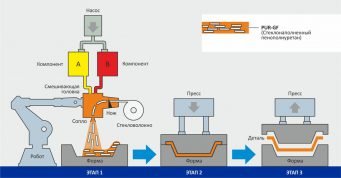 LFI process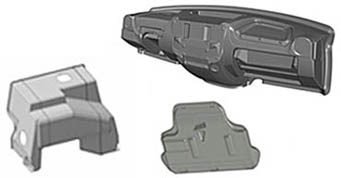 Variants of manufactured products
The technology is applied for manufacturing of exterior and interior parts with complex geometry and/or large dimensions.
Application:
Advantages:
Premier-class surfaces due to combinations of simple technologies (

IMС

,

Spray Skin

, PMMA / АBS sheet);
Wide range of density of the parts 500kg/m3 -1 500kg/m3 due to foaming polyurethane;
High strength (fiber content up to 50%, fiber length 12.5-100 mm);
Not very high level of investments in press forms;
Project start up from 3 months.